Mentorsheep, Product Design, 2019
An integrated mobile app efficiently connects experienced alumni and mentees who need career advices.
Mentoring can be a great way to share knowledge and help someone be successful in their personal or professional life. But many potential mentors are often too busy to commit to regular meetings, or they have a hard time connecting with people seeking help. Design an experience where prospective mentors and mentees can be matched, based on similar interests, location, and availability.
Too busy to commit to regular meetings

Most of the experienced mentors are busy working on their job and have a tight schedule during the day and probably have plans for weekends.



Have a hard time connecting with people seeking help

People seeking help usually don't have a connection to mentors due to limited resources. If they do have connections, using email or instant messaging to check the mentor's availability and arrange a meeting is very time-consuming.



A Wide variety of interests, location, and availability

Mentors have different kinds of profession, knowledge, location, and schedule. On the other hand, mentees also have to match with those variables.

To have a comprehensive view of my target user, I created a questionnaire inquiring their age, profession, and experiences with mentorship. I gathered 25 exemplars and conducted interviews with 5 people.
Check out the full questionnaire documentation
here
.
Participants were being asked the questions:
• How did you connect with your mentor/ mentee?
(approaches)
• Did you encounter any difficulties when being a mentor/ mentee?
(frustration)
• What did you expect to gain from the experience?
(mentor's goals)
• Have you ever ask someone for advice? What kind of question do you usually ask?
(mentee's goals)
Organizing and interpreting all the collected feedbacks, I created this affinity map to analyze and synthesize the results.
Based on those findings, I integrated the findings and created two personas to specify users needs.

How might we efficiently connect experienced alumni and mentee who needs career advices on an integrated mobile app?

Based on user research, I learned that there isn't an integrated service to efficiently connect mentor and mentee. Also, a mentee who is seeking career advice does struggle to use email, Linkedin or instant messaging app to reach out to alumni. Therefore, my approach is to create a platform bridging the gap between them based on their interested topics, location, and availability. Simultaneously, providing handy tips and guidance for target users to enhance the mentoring experience.

Take a closer look at current products on the market that are most being used for seeking career help can let me understand the success and analyze the opportunity.


Wireframe Sketches &
User Flow
Wireframes were created to map out the interactions for key features of the whole application. For better user experience, according to Hick's Law, I obscured the complexity of setup process into a 6-step onboarding journey. Including school, goal, profession, interested ways to meet, availability, and login, it helps to provide a better sorting result.


There are 4 tabs in this app: Explore, Message, Saved, and Profile. Mentees can search title, job, people or company, etc. Or, they can filter by ways to meet, location or experience level to explore their ideal mentor to meet.
User Testing &
Iterative Prototyping
Further investigation into the interaction and iterate.

I conducted user testing with 5 people. In each session, I started with a brief introduction, then I observed the interaction and user experience to see if everything make sense.

Onboarding 2: Specify profession and years of experience
Be more intuitive.


In the onboarding process, users will be asked to specify their profession and years of experience. I updated the choosing button to a slider for better intuition.


Onboarding 3: Be a mentor or not

Everyone is a mentee.


I think there is always someone with more experience. Therefore, I think it should not be a binary option between being a mentor or mentee. Everyone is a mentee by default. So the question should be just asking if the user wants to be a mentor.
Before
After
Before
After
Onboarding 4: Mentor in interested topics
What is more important?


One of my goals is to match the mentor and mentee with similar interests, however, I didn't notice that there are several aspects within "career advice". So, instead of choosing their interested way to meet, mentors can choose their interested topics to mentor others.






Onboarding 5: Provide availability
Categorizing choices.


It was a big challenge for me to solicit users availability since I don't want to overwhelm them in the onboarding process. My solution is to categorize choice for the user. They can provide the approximate availability, and specify inside profile view.


Before
After
Before
After
Explore view: Find the perfect mentor
Prioritize the essentials.

In the explore view, mentees can find their perfect mentor based on the search bar or the filters above. I reconsidered the constraint and prioritized filter's importance. Mentees can now sort the result by location, availability and their interested topics.
Mentor's Profile: Send an invitation to the mentor.
Enhance the experience.

When mentee finds their desired mentor, after selecting their interested topic and mentor's availability, they can send a request to the mentor. Then the system will provide a guidance for the meeting to prevent unprepared mentees. (I discovered during user research)
In order to create a sense of profession, I changed the word "Message" to "Send" (an invitation). Also, I replaced the heart icon to a bookmark icon.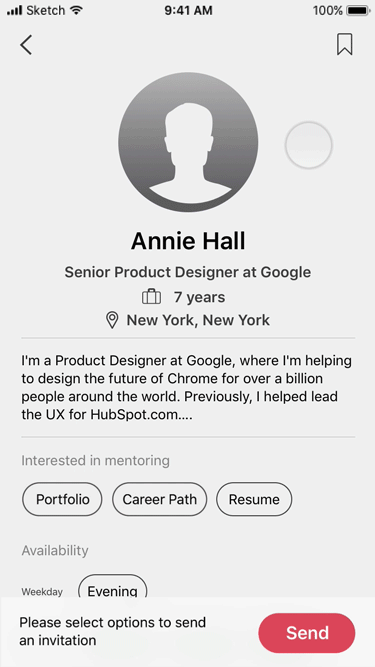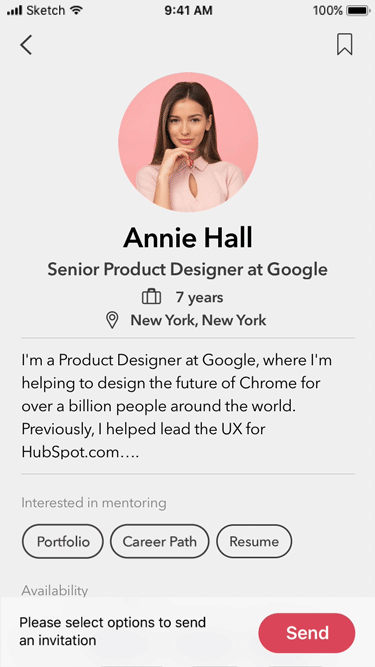 Onboarding process for a better matching result.
Connect mentors based on your preference.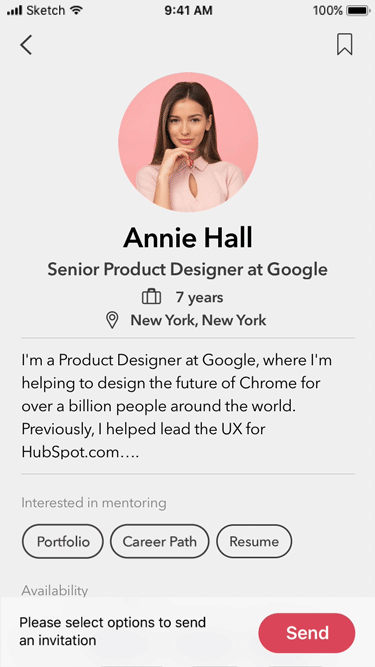 It has been a challenging week for me, however, I learn a lot in the process. Because I spent half of the time doing research, understanding users, and ideation, I wish I have more time to polish the final design. The biggest takeaway of this design exercise is the decision-making process, especially in such short amount of time.

This project evolved along with research, constant user testing, and iterative prototyping. My next step would be to look into different scenarios such as business mentorship. Although my prototype focused on a specific community of alumni, I believe that this idea has the potential to grow in outside communities as well, providing an effortless and efficient way of finding mentors.
---